RSC Gig Guide
ENTERTAINMENT AND EVENTS - BAND LIST BELOW
- NO COVER CHARGE-
THURSDAY NIGHT is QUIZ NIGHT 7.15pm
OUR CATERER- BEN'S KITCHEN - bistro OPENS - Weds, Thurs, Fri, Saturday 6pm till 9ish. Ben has been in our bistro for a while now, Ben is our Grey Lynn Masterchef rock star. He made number 6 in the 2014 Australian Masterchef series.
We don't take bookings, so get there early! We provide catering for private parties in our function room- on enquiry to Ben. So book the function room with our manager Kris and your food with Ben.

MEMBERS CLUB DRAW EVERY WEDNESDAY 6.30ish - JOIN NOW!! - get your membership through to 31 December 2020!
GIG GUIDE -NO COVER CHARGE!
DECEMBER

Sunday 1st December - 4pm - Thieving Gypsy Bastards - Rock Classics - Pool Club Xmas Party
Friday 6th December 8pm - Cooper Street Band - Blues
Sunday 8th December - 4pm - One, One, One - Classic Rock & More - Clubs Xmas Party
Friday 13th December 8pm - Rebel without Applause - Rock 'n' Soul Music
Friday 20th December 8pm - The Renegades - Acoustic Rock Covers
Wednesday 25th December - 2.30pm - Tere Mareraki - One man band
Friday 27th December 8pm - Shane and the Shazam Band - Kiwi Rock Classic
Tuesday 31st December 9pm - Groovediggers - Rock & Blues
Xmas Lunch - Book Now, $50 per adult, $25 for children under 16, book at the bar or email kris@greylynnrsc.org.nz, Band will start at 2.30pm - Tere Mareraki, see photo for menu.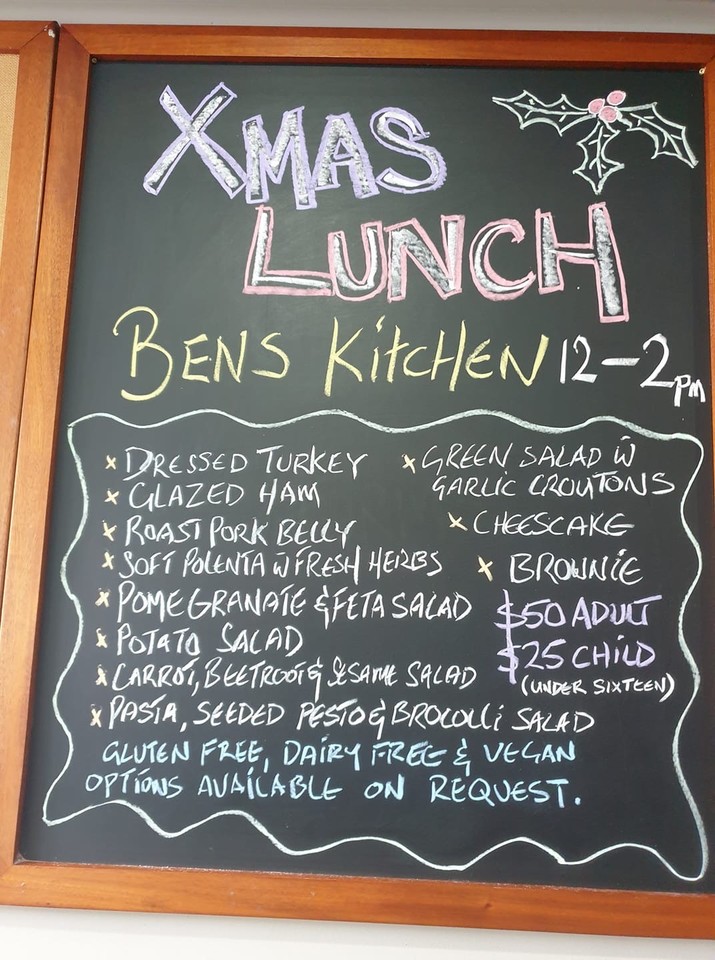 New Years Eve - Groovediggers - 9pm to 12.30am, come see the new year in with ya mates here
WE ARE OPEN EVERY DAY FROM 11am!
Membership -for associates (local community)- $30 a year takes you through to 31 December 2019. Service- $20 and Returned $10. - you can RENEW online just email us with your query and we will provide details to you- or call Kris in the office, we do require you to be nominated and seconded for membership when you first join-so please come in to sign up and pay your fee.
-you must be there to win $200 cash and it jackpots each week if it is not won- by $200
The Grey Lynn RSC is most grateful to the Waitemata Board for assisting and participating in our Anzac Day ceremonies and our local community and schoolchildren- you all rock.
Dan Tippett and DLT , local artists, completed a mural on our facade to our building for our 100th Anzac day Commemoration. It shows our heritage and our neighbourhood and this will bring pleasure, education, thoughts and enhance the neighbourhood for years to come. Dan and DLT finished the fabulous heritage mural on our carpark wall.
We have a small library of fiction books, they are to be passed on- so please come in and get some books to read - we don't care if you don't bring them back! Pass them on! Please bring new fiction books too if you don't want them,
BISTRO- Tasty menu...and when the kitchen is closed, bar snacks are still available at all times. Book a catered function upstairs in our fabulous function area. Yes you can take your fresh fish n chips home,or home made pasta or home made smoked fish pies.
CAR BOOT SALE CONTACT NUMBER- this is not ours- this is Grey Lynn 2030's project-contact them for details!
Last Sundays each month - Car boot sale- 8.30am to 11.30am in the carpark- recycled and second hand goods-community event with the Grey Lynn 2030 book through Grey Lynn 2030 - check their website or ph Suzanne 027 360 4564
0 email suzanne.kendrick@gmail.com